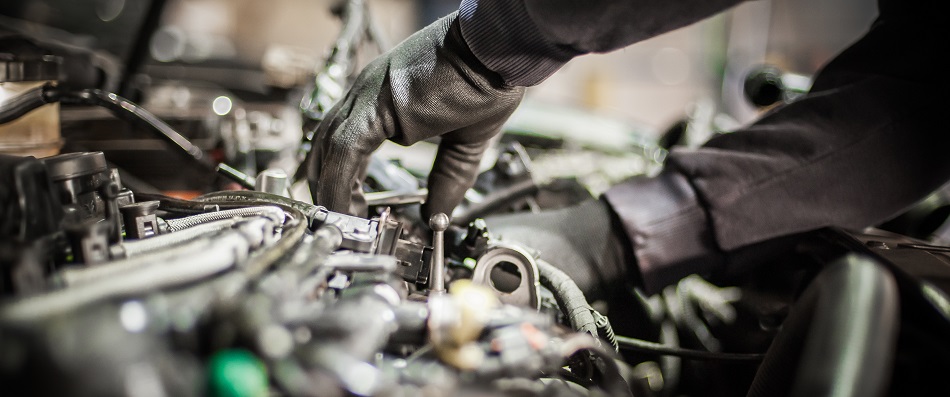 How Does a Clutch Work?
Although the term "clutch" is usually associated with manual transmission cars, the clutch is present in automatic transmission vehicles as well. A clutch is needed in order to stop your car (stop the wheels from turning) without killing your engine. The clutch allows your car to smoothly engage a spinning engine to a non-spinning transmission by controlling the slippage between them.
A clutch works because of the friction between a clutch plate and a flywheel. The flywheel connects to the engine, and the clutch plate connects to the transmission. When your foot is off the pedal, springs push the pressure plate against the clutch disc, which in turn presses against the flywheel. This locks the engine to the transmission input shaft, causing them to spin at the same speed. When you press the clutch pedal to change gears, the pressure plate pulls back from the clutch plate, which then disconnects from the flywheel. If one or more of these parts is damaged or worn out, your clutch will not work properly. We at Harvest Hills Auto can identify what the issue with your clutch is and repair it as efficiently as possible.
These days, clutches can last for many miles in normal driving conditions. Clutches on trucks that regularly carry heavy loads, however, can wear out much faster.
How Do I Know If My Vehicle Needs a Clutch Repair?
If your clutch is worn out or broken, you may require a clutch replacement. If you are in Calgary, Alberta, Cochrane, Alberta, Okotoks, Alberta, Airdrie, Alberta, Chestermere, Alberta, or nearby, Harvest Hills Auto is your top choice for clutch repair. Some signs of a broken or worn-out clutch include:
Strange noises when the clutch pedal is pressed - If you hear grinding noises when you press your clutch pedal, this indicates that the clutch is faulty or damaged or that there is a low level of fluid in your vehicle.
The clutch feels soft while pressing - Because the clutch assembly is heavy, it should require some force to press the clutch pedal. If it is easier than usual to press the clutch pedal, there is an issue with your clutch.
The clutch feels like it's slipping - If the clutch fails to engage even when the pedal is pressed fully, there is a problem. You may notice that the engine RPM is rising, but the car is not going any faster. If you continue to press the clutch with no result, the other parts of your engine can overheat, causing more significant damage.
The clutch pedal feels hard - If the pedal feels hard and you have a hard time shifting gears, there is likely a problem with your vehicle's hydraulic system.
If you are experiencing issues with your clutch, it is best to bring your car to a technician who can run a diagnostic test and efficiently make the appropriate repairs. If you are in the T3K 0B3 area or nearby, you can bring your car to Harvest Hills Auto. In addition to clutch repair, we also offer other services, such as Diesel Repair, Fleet Services, and ongoing scheduled maintenance.
Your Reliable Shop for Clutch Repair
Look no further than Harvest Hills Auto in Alberta to fulfill all your auto repair needs. We've been repairing vehicles since 2006, and our technicians have the experience and expertise to take care of your vehicle. Our team has worked on most makes and models, including Dodge, Chrysler, Ford, and GM. We are dedicated to providing top-notch customer service and will make sure any issues with your clutch are fixed as soon as possible.
Don't hesitate to schedule an appointment with Harvest Hills Auto in Calgary today! You can schedule an appointment with us online at https://harvesthillsauto.ca/ or give us a call today. Harvest Hills Auto - You won't be disappointed, we guarantee it.